Service
Deltaoil is providing services under strategic partnerships, which forms an important part of our business philosophy and strategy as it is cost and supply effective, enabling us to serve our customers at very competitive prices and with high level of professionalism.
Our range of services includes:
Project Management
Engineering
Procurement
Fabrication

Construction
Commissioning and Maintenance
Environmental
Computer Resources
Project Management
For Deltaoil, each project originates from the Project Division designed by a project team assembled and led by the Project Manager. From initial proposal until completion, the project team is responsible for the entire;
Technical Proposal
Quality assurance and control
Budget and costs control
Supervision of engineering designs
Schedule Report
Supervision of all constructions, fabrication, installation, testing,
plant commissioning, operation and maintenance
| | |
| --- | --- |
| | Deltaoil ensures that a comprehensive understanding of the diverse issues involved in the project is clearly articulated; dividing the project team into task force groups, each responsible for particular area. This way, delays, miscommunications and worries about bringing the project to smooth and successful conclusion are avoided and the project can be completed cost effectively and on-schedule to the client's satisfaction. |
Procurement
Deltaoil member companies maintain trading departments and companies capable to procure almost all materials, equipments and services. The combined database of the Consortium covering markets, prices, tariffs and import/exports regulations is extensive. Skillful traders equipped with latest information technologies and innovation rigorously pursue procurement of materials and equipments ensuring that quality is maintained at the most cost effectiveness and best terms.
Fabrication
Key strength of the Deltaoil is that each member maintains well-equipped and advanced fabrication facility. The Consortium's fabrication facility in Nigeria will be designed to be "state of the art", offering key advantages of quality, variety, flexibility and convenience.

Construction
Deltaoil offers full range of construction services, maintaining high quality by adhering to strict construction standards and procedures using advanced techniques and technologies.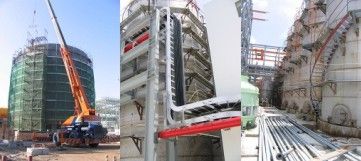 Commissioning and Maintenance
For startup and successful long-term operation of the project, providing critical finishing and follow-up services are essential include;
Mechanical completion test
Test runs
Start up operation tests
Examination for system performance and operational integrity

After completion of project, it is important to continue providing consultation, maintenance, emergency services, plant and equipment overhauls to keep shutdowns to absolute minimum.
Environment
Deltaoil member companies are experienced in environmental issues and technologies, having carried out various large scale projects and with expertise in;
Air pollution control:
Air pollution control:
Waste Water treatment,

Refuse incineration Plant
Energy Recovery
Supported by the rich engineering resources and experiences in civil and industrial designs, the environmental team will ensure compliance to environmental regulations and propose cost-effective ways to minimize wastes.
Computer Resources
Deltaoil TW and Bengham Lee Architects computer center is state of the art and indispensible to the civil and industrial
designs, project management, constructions and Corporate Affairs.